Love him or hate him, but you can't ignore him. This age-old adage perfectly suits Ram Gopal Varma. He's a rare filmmaker in today's times who is not afraid to speak his mind and hence, his interviews and stories always get a sizable readership. Recently, he shifted to his brand new office in Hyderabad. He uploaded a video shot by a drone and we were so amazed and astonished by the sensuous and jungle-themed interiors that we packed our bags and headed to the Telangana capital immediately!
EXCLUSIVE: Inside Ram Gopal Varma's SENSUOUS and jungle-themed Hyderabad office: "Your workplace should reflect the interior of your mind. And it's an open secret that I am into powerful men and beautiful looking women"
Located at the posh Jubilee Hills, Ram Gopal Varma's office is unique not just inside but also outside. 'RGV DEN' is proudly mentioned on the exterior along with a huge cut of Ram Gopal Varma! The master filmmaker greeted us as we entered the premises and gave us an exclusive tour of his workplace.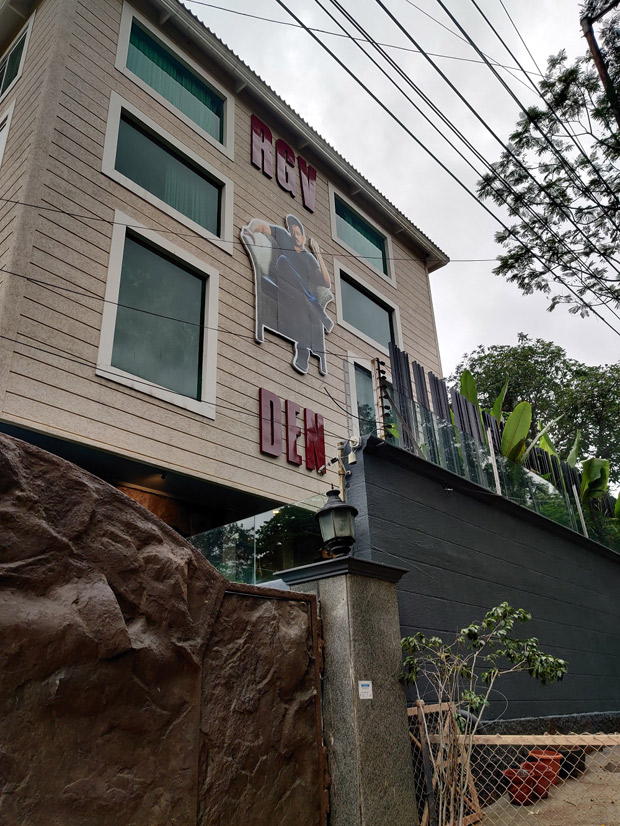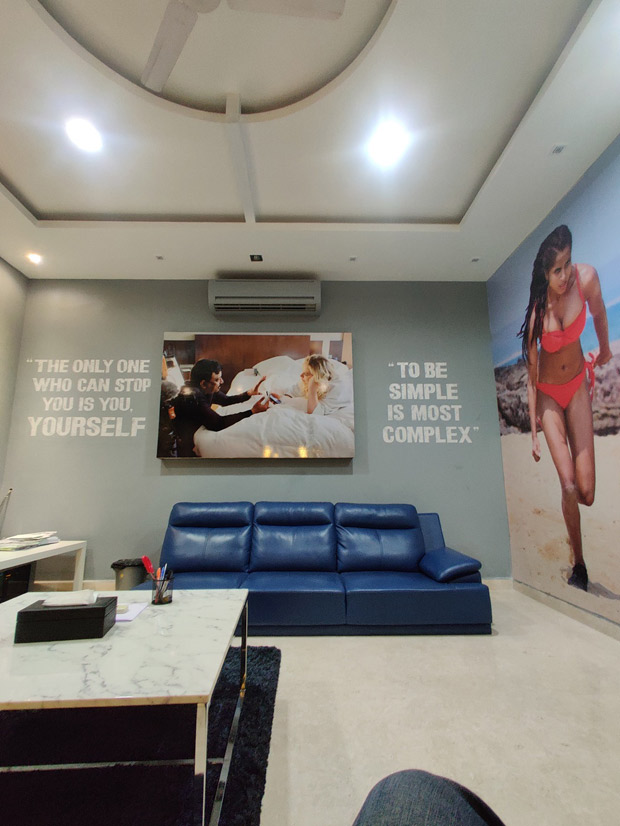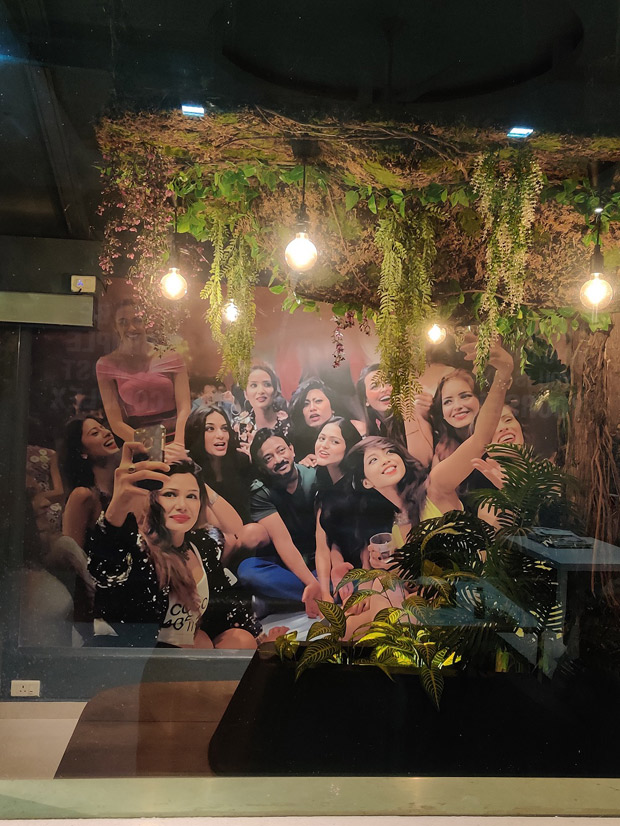 The ground floor has a parking lot where 'God's Hell' is mentioned. We climb the stairs and head to the first floor where the main entrance to the building is situated. A waiting area greets us first. It is well-lit and has a hot wall-to-wall poster of Pooja Bhalekar, the lead in RGV's Ladki – Dragon Girl (2022). But the centre of attraction in this room is a snap of Ram Gopal Varma directing Mia Malkova. He worked with the adult star in two films – God Sex And Truth (2018) and Climax (2020).
Just outside the room is a photograph of Ram Gopal Varma looking innocent and all smiles as he poses with a group of beautiful ladies. He has also filled the walls with snaps of him sharing the frame with eminent personalities like Amitabh Bachchan, A R Rahman, Aishwarya Rai Bachchan, Rana Daggubati, S S Rajamouli, Mani Ratnam, Shekhar Kapur etc and also J Jayalalithaa and N T Rama Rao.
From here, we enter the main part of the office which has a jungle theme. The narrow passage is also as iconic as it gets. It has posters of Amitabh Bachchan on one side and Nagarjuna on the other. The lobby on the ground floor has a huge BTS still of Ram Gopal Varma having a good laugh with Nagarjuna and Sridevi while shooting for Kshana Kshanam (1991). Right next to it is an image of Bruce Lee, a legend that RGV admires a lot. From here, we go to the top but not before having a second glance at another sizzling poster of Pooja Bhalekar.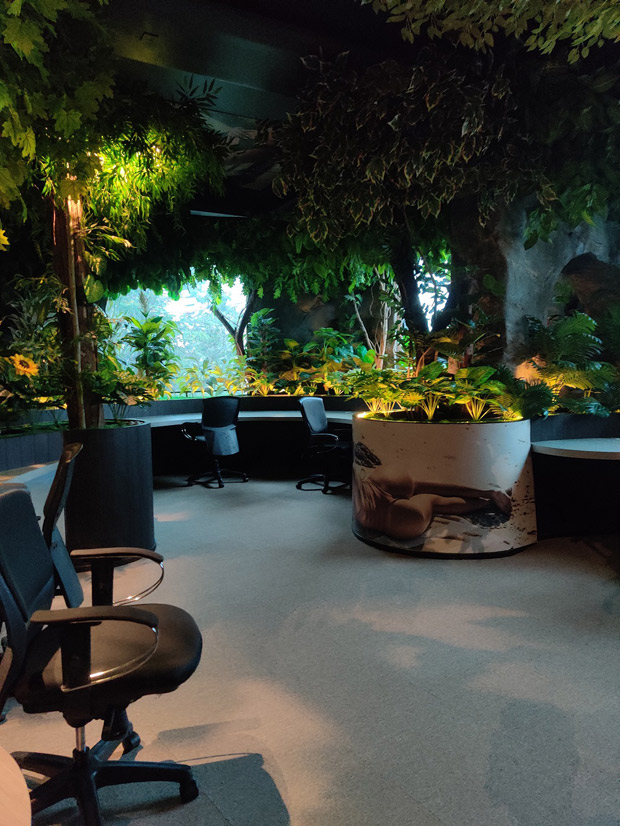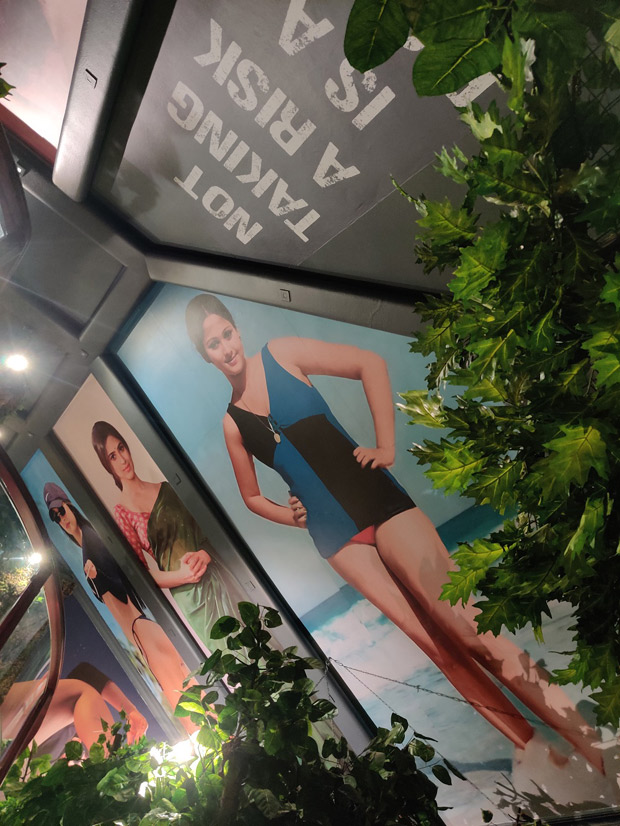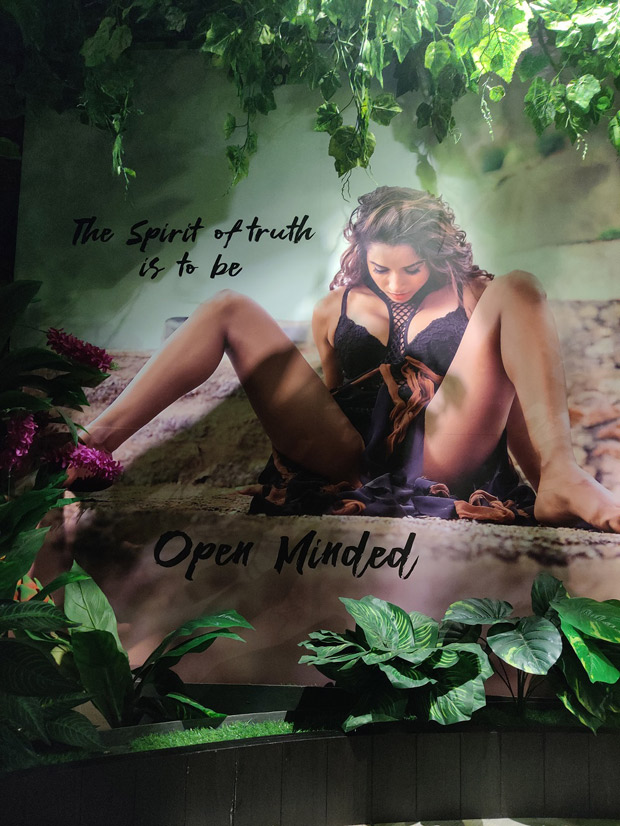 The second floor is where we couldn't believe our eyes. This is the area where the employees operate and the jungle theme here is very striking. We had seen the video before and yet, we were speechless. One actually feels that one has stepped into a forest. But this forest is quite sensual as Ram Gopal Varma has pasted several hot pictures of women across the workplace, making us wonder how the employees here must be feeling distracted while working! The pictures are not just across the bay but also on the roof. Ram Gopal Varma proudly said that he digitally improved a glamorous picture of yesteryear actress Jaya Sudha and put it on the ceiling. Pictures of Naina Ganguly and Apsara, whom he worked with recently in the lesbian-themed thriller Khatra Dangerous (2022), were also seen on this floor.
The third floor is where Ram Gopal Varma's cabin is located. 'DEVIL' is prominently mentioned outside the door instead of his name! We thought we had seen enough hot pictures of women in the rest of the office. But the most sensational ones were in his room.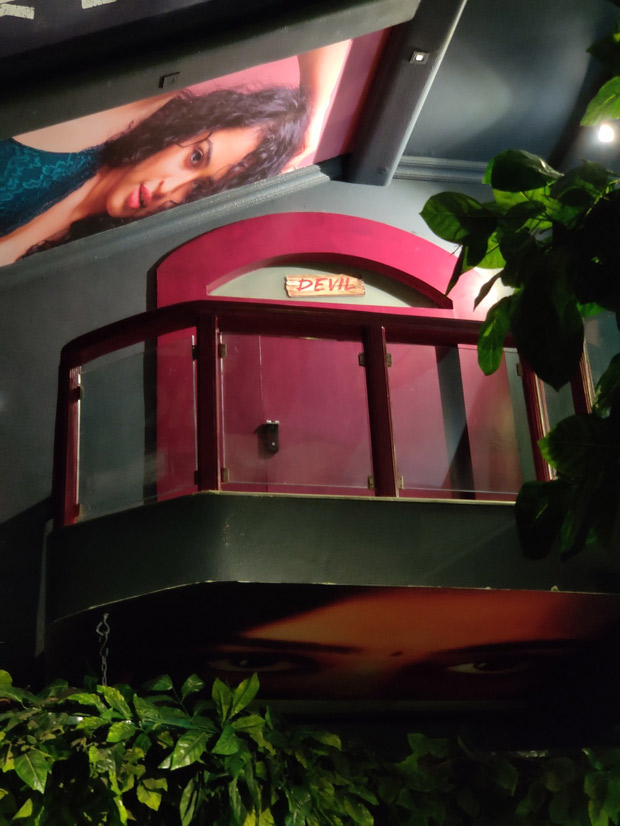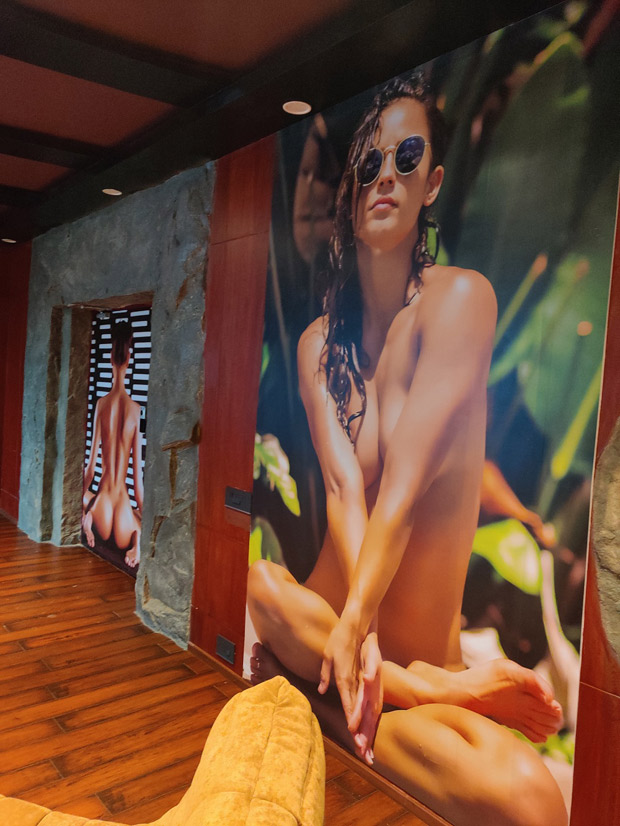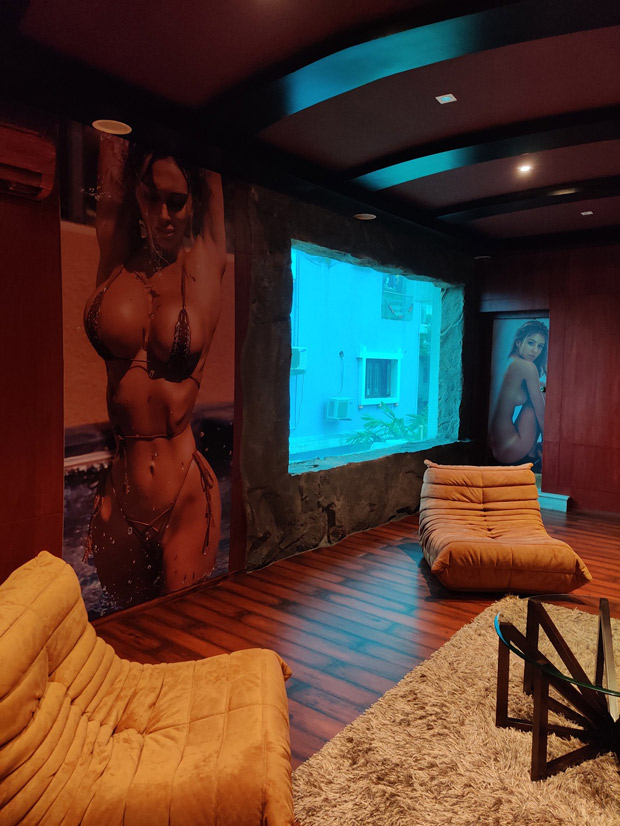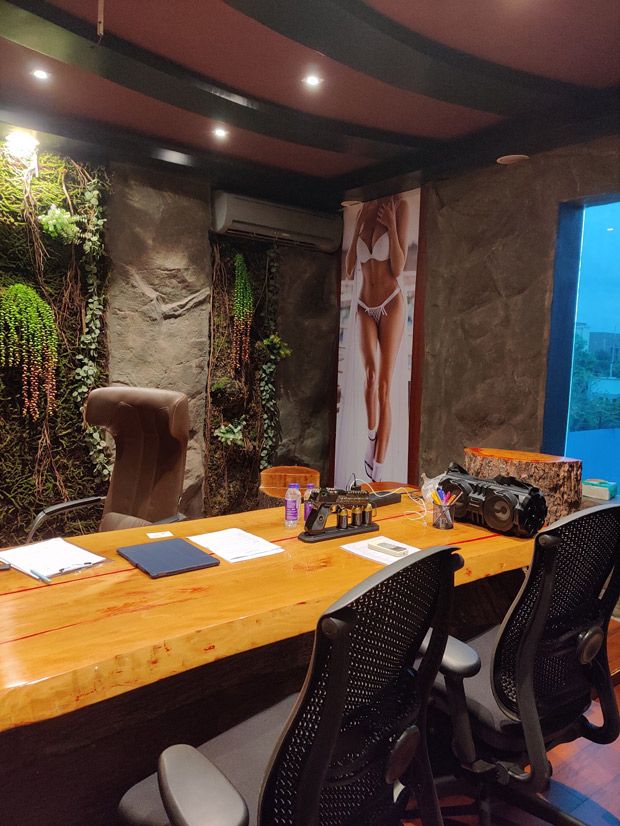 When we thought the tour was over, he told us to hold our breaths. He took us back to the first floor from where there was a secret Indiana Jones-type door. There were two corridors here. The one on the right led to a preview theatre. The one on the left led to, well, nowhere! He just designed it for the aesthetic appeal and it resembled a real-life cave. The passage was dimly lit and at the end of the corridor, we saw a saree-clad woman sitting on the floor with her back facing us. We wondered who this person was resting in such a scary part of the office. But it turned out to be a statue! RGV chuckled as he noticed our expressions!
The article will be incomplete if we don't mention that the office is also pasted with inspiring and badass quotes, penned by none other than Ram Gopal Varma. Some of the notable gems are as follows:
– Not taking a risk is a bigger risk
– God doesn't care about you. So you shouldn't care about him either
– The only true wealth in the world is wine and women
– Power is about supporting from the bottom…not sitting on the top
– Instead of waiting for the opportunity to knock, just break the door
– Working hard will make you labourers. Working smart will make you command them
– You are something to me only if you add something to me
– Whether to make your world a dream or a nightmare is your choice
– If you won't step out of the crowd, the crowd won't notice you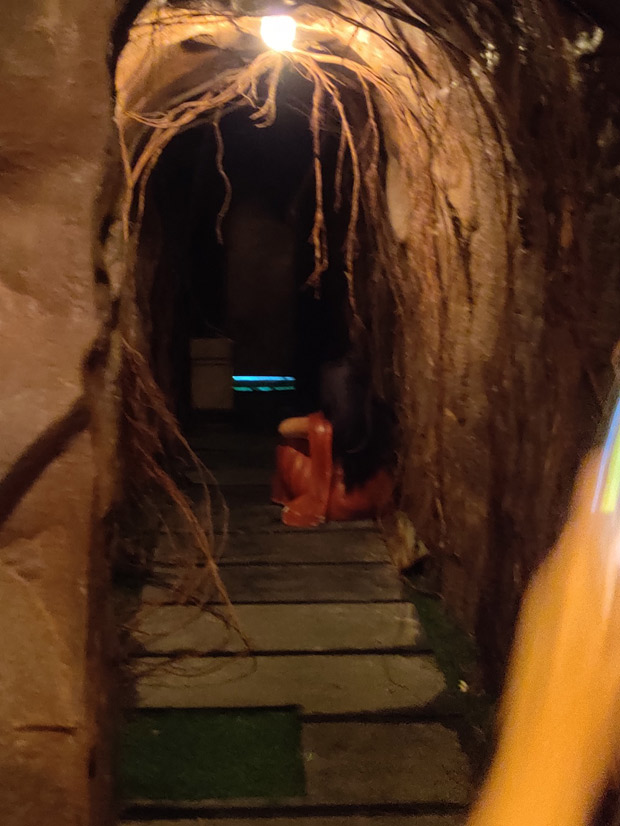 During an exclusive interaction with Bollywood Hungama, he talked about the rationale behind this theme in his office, "Ayn Rand, who wrote 'The Fountainhead', said that your workplace should reflect the interior of your mind. And it's an open secret that I am into powerful men and beautiful looking women! So, I want every inch of my office to reflect that. I like the wildness. It resembles a cave and a forest. At heart, I believe I am a creature (smiles)."
He continued, "Also, I get bored very fast. Something should constantly excite me. Subtle furnishing and so-called elegance don't work for me."
In a 2012 Bollywood Hungama exclusive interview, Ram Gopal Varma made it clear that he was in love with the late Sridevi. When asked about it and who he loves now, he mischievously replied, "Yes, I used to love her in my growing years. Right now, I am not into one woman!"
At this point, we were reminded of Suchitra Krishnamoorthi who revealed in her book 'Drama Queen' that she proposed marriage to Ram Gopal Varma. RGV refused her offer because he told her that "I use women only for sex. I like women's bodies, not their brains. In my opinion, a woman should be seen and not heard."
When prodded about him, the filmmaker remarked, "It was half a joke. I used to go to Shekhar's (Suchitra's ex-husband, filmmaker Shekhar Kapur) home a lot. She just said that and I happened to share my views on marriage."
Having shifted base to Hyderabad, we sign off by asking Ram Gopal Varma if he misses Mumbai. He stated, "No. In today's times, where you are based doesn't make any difference. I work in my mind. Whether I am in Mumbai or Hyderabad or Timbuktu, it doesn't matter."
Also Read: Oppenheimer: Ram Gopal Varma takes a dig at Indians amid controversy: "I doubt even 0.0000001 % have read Bhagavad Gita'
BOLLYWOOD NEWS – LIVE UPDATES
Catch us for latest Bollywood News, New Bollywood Movies update, Box office collection, New Movies Release , Bollywood News Hindi, Entertainment News, Bollywood Live News Today & Upcoming Movies 2023 and stay updated with latest hindi movies only on Bollywood Hungama.